Home > Electronics & Communication Engineering
Electronics & Communication Engineering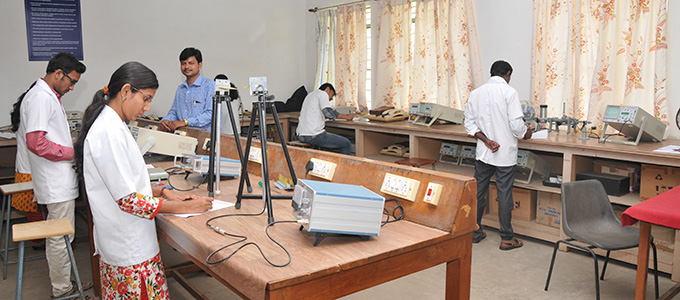 To be recognized as an excellent Department in Electronic & Communication Engineering that provides a great learning experience and to be a part of an outstanding community with an admirable environment.
To provide a student centered learning environment which emphasizes close faculty student interaction and co-operative education.
To prepare graduates who excel in the engineering profession, qualified to pursue advanced degrees and possess the technical knowledge, critical thinking skills, creativity, and ethical values.
To train the graduates for attaining leadership in developing and applying technology for the betterment of society and sustaining the world environment.
| | | |
| --- | --- | --- |
| Name of the course | Intake | Year of Commencement |
| Electronics & Communication Engineering | 100 | 1982 – 1983 |
 ISTE Student chapter conducted in the department
To train students to meet industry challenges.
Aiming to improve the department as center for an excellence.
Strengthening the number of Doctorates.
To create center for Excellence in Power Electronics, VLSI & Communication Solution providers to industry.
Providing Industrial Training for students and Faculty.
To start graduate/post-graduate course in the emerging technologies.
Establishing Research and Consultancy Center.
Establishing Innovation Center.
Establishing Center for Training Rural Youth in IT.
Emphasizing on pragmatics and practical knowledge.
To achieve distinguished academic results.
To inculcate Reputed Professional discipline work culture for quality education.
Effective teaching learning process and modern infrastructure.
Continuous Assessment of student, teacher-guardian scheme and career counseling for all semesters.
Industry Institute interaction cell, Training and Placement cell & Personality Development cell for both pre final and final year students.
Industries based project work development during final year.
Department of Electronics & Communication was started in the year 1982 with an intake of 100 students & is headed by Prof. G.S. Rajanna. The Department has good academic excellence with a ring of highly qualified & experienced faculty members.
The Department of Electronics and Communication Engineering at SJMIT has a strong focus on providing technical skills to the students with a strong background in mathematics, science and engineering and to enable students to solve problems through analytical reasoning with a motivation to cater to the local and global needs of technological growth. The department provides students an adequate practical training by way of laboratory sessions, design and problem based learning. During learning process, we also emphasize the vital component of effective oral and written communication skills. Students of E & C are under meticulous guidance by the dedicated faculty members that ensures quality teaching with a balanced blend of theoretical as well as practical stuff. Many of our faculties have registered for Ph.D. and are on the verge of being awarded. They attend various workshops, conferences and are involved in R&D activities. Many of our faculties have represented themselves at National & International conferences and presented technical papers.
The Department has all the necessary infrastructure and educational facilities with regard to class rooms, labs, library etc. The laboratories are well equipped with latest technology equipments. It also has store house of knowledge – the departmental library which is well stacked with good collection of books. Besides academics, the department organizes continuous educational programs to enhance knowledge on advanced topics. Technical seminars, personality development programs are conducted regularly.
The Department has the credit of organizing project exhibition 'TECHNOFEST', a platform to exhibit the talent of hobby projects as well as final year projects. TECHNOFEST had a very good response from visitors. Many of the projects have been selected for KSCST.
The Department is conducts a Project Techno fest and Symposium every year for exposing the talents of the students. These are great boon to the improvement of the technical expertise of our future engineers. Department is conducting a various seminars, workshops from ISTE body for the students career development.
The Department of Electronics & Communication Engineering works actively to prepare the students by training on Group Discussions, seminars, soft skills and communication skills. Due to the perseverance in training and placements, many of our students have been placed in various MNC's like Infosys, L&T, Wipro, Apara, HCL, Tech Mahindra, Accenture etc.
| | | | | | | |
| --- | --- | --- | --- | --- | --- | --- |
| Sl   No.   | Faculty Name |                Designation                 |  Exp. in years   | Qualification | Research Interest | Email ID |
| 01 | Dr.Rajanna.G.S. | Prof. & Head | 31 | M.E., PhD | Power Electronics and Control System | 9448705336 |
| 02 | Sri. Siddesh K B | Asso. Prof | 16 | M.Tech (Power Electronics) | Power Electronics | |
| 03 | Smt. Pushpa K G | Asso. Prof | 16 | M.Tech (Digital Electronics and communication Systems) | Digital Communication | |
| 04 | Smt. Pavithra A P | Asso. Prof | 9.6 | M.Tech (Digital Communication and Networking) | Communication system | |
| 05 | Smt. Roopa S | Asst. Prof | 10 | M.Tech (Digital Communication and Networking) | Communication System | |
| 06 | Sri. Sridhar S N | Asst. Prof | 8.6 | M.Tech (Information Science) | Embedded Systems | |
| 07 | Kum.Farzana Parveen B A | Asst. Prof | 7.6 | M.Tech (Digital Electronics and Communication Systems) | Embedded Systems | |
| 08 | Sri. Jayadevappa R S | Asst. Prof | 6 | M.Tech (Computer Science Engineering) | Signal Processing | |
| 9 | Sri. Lavakumar T B | Asst. Prof | 5 | M.Tech (Digital Communication and Networking) | Digital Communication and Networking | |
| 10 | Sri. Pavan Kumar D | Asst. Prof | 4.8 | M.Tech (Digital Communication and Networking) | Nano Technology | |
| 11 | Sri. Sudarshan M K | Asst. Prof | 4 | M.Tech (Digital Electronics and communication) | Digital Electronics & Communication | |
| 12 | Sri. Sandeep V R | Asst. Prof | 3.9 | M.Tech (VLSI design and Embedded systems) | VLSI & Embedded | |
| 13 | Smt. Tanuja T | Asst. Prof | 0.6 | M.Tech (Digital Communication) | Image Processing | |
| 14 | Kum. Monika Sharma D | Asst. Prof | 0.6 | M.Tech (VLSI Design and Embedded System) | Embedded Systems | |
| 15 | Sri. Chetan S | Asst. Prof | 0.6 | M.Tech (VLSI Design and Embedded System) | Embedded Systems | |
| 16 | Smt. Deepashree K V | Asst. Prof | 0.6 | M.Tech (Electronics) | Digital Communication | |
| 17 | Yogesh Gujjar C J | Asst. Prof | 4.5 | M.Tech (Industrial Electronics) | Industrial Electronics | |
| 18 | Raghu S | Asst. Prof | 4.0 | M.Tech (Digital Electronics and communication) | Digital Electronics and communication | |
| 19 | Nandini G R | Asst. Prof | 1.5 | M.Tech (Digital communication and Networking) | Digital communication and Networking | |
| 20 | Hanumanthegowda B C | Asst. Prof | 0.1 | M.Tech (Power Electronics) | Power Electronics | |
Technical & Non Teaching Staff Details
Sl No.

Faculty Name

Designation

Qualification / Specialization

Exp. in years

01
Sri. S Manjunath
Programmer
Diploma (E&C)
15
02
Sri. Syed M Pasha
Instructor
Diploma (E&C),
MSc (IT)
10
03
Sri. Gurumurthy K
Programmer
B.E (E&C)
5
04
Sri. Devaraj C J
Instructor
Diploma (E&C)
2.7
05
Sri. Somashekar M T
Instructor
Diploma (E&C)
0.2
06
Sri. Rudresh L
Asst Instructor
ITI (EM)
10
07
Sri. Thippeswamy B
Helper
7th
34
08
Sri. Prakash R
Helper
8th
15
The department is equipped with the following Labs
Analog Electronics Lab
Logic Design Lab
Microcontrollers Lab
HDL Lab
Digital Signal Processing Lab
Analog Communication Lab + LIC Lab
Advanced Communication Lab
Microprocessor Lab
VLSI Lab
Power Electronics Lab