Home > Electrical & Electronics Engineering
Electrical & Electronics Engineering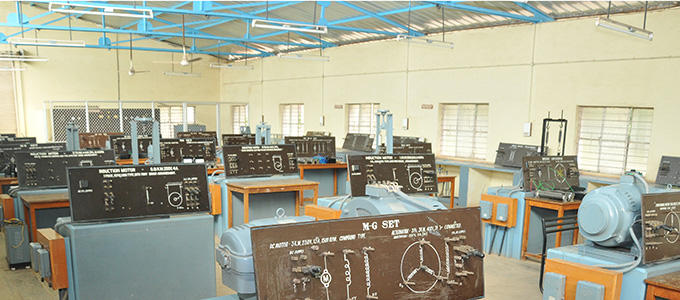 To attain a position of international excellence in educational and research activities related to Electrical Engineering.
To provide a dynamic and scholarly environment where in students learn independently and in collaboration with others to develop a disciplined as well as innovative approach to their careers as professional engineers, researchers or teachers.

To produce qualified, well-round, and motivated students with fundamental and cutting-edge technical knowledge in electrical engineering to serve the nation and the world.

To pursue creative research and new technologies in electrical engineering and across other disciplines in order to serve the needs of industry, government, society and the scientific community by expanding the sound knowledge in the field.

To develop partnerships with industrial and government agencies.

To achieve visibility by active participation in conferences, technical and community activities.

To publish enduring scientific articles and books.
| | | |
| --- | --- | --- |
| Name of the course | Intake | Year of Commencement |
| Electrical & Electronics  Engineering | 40 | 1980 – 1981 |
PO 1: Engineering Knowledge: Apply knowledge of differential equations, vector calculus, complex variables, matrix theory, probability theory, physics and chemistry, electrical and electronic engineering fundamentals.
PO 2: Problem Analysis: Graduates will Identify,  formulate and solve complex electrical and electronics engineering problems using the first principles of mathematics natural sciences and engineering science
PO 3: Design: Graduates will design Electrical and Electronics systems meeting the given specifications for different problems taking safety and precautions into consideration.
PO 4: Investigations: Graduates will Perform investigations, design and conduct experiments, analyze and interpret the results to provide valid conclusions.
PO 5: Tool Usage: Graduates will use modern software tools to model and analyze problems,  apply appropriate techniques and IT tools for the design & analysis of the systems keeping in view their limitations.
PO 6: The Engineer and Society: Graduates will understand the impact of local and global issues / happenings and assess societal, health, legal and cultural issues with competency in professional engineering practice on Electrical Engineers.
PO 7: Environment and Sustainability: Graduates will Demonstrate professional skills and contextual reasoning and provide sustainable solutions for problems related to Electrical and Electronics Engineering and also will understand their impact on environment.
PO 8: Ethics: Graduates will have knowledge of professional ethics and code of conduct as applied to Electrical Engineers.
PO 9: Individual and Team work: Graduates will work effectively as an individual and as a member or leader in diverse teams and in multi-disciplinary settings.
PO 10: Communication: Graduates will communicate effectively in both verbal and written form  among engineering community, being able to comprehend and write reports, presentation and give / receive clear instructions.
PO 11: Project Management and Finance: Graduates will plan, demonstrate and execute engineering & management principles in their own / team projects in multidisciplinary environment
PO 12: Life-long learning: Graduates will have the ability for self- education ,recognize the need for and have the ability to engage in independent and lifelong learning.
Program Specific Outcomes (PSO's)
PSO 1: Ability to specify architect, design and analyze systems that efficiency generate, transmit, distribute and utilize electrical power.
PSO 2: Ability to specify design, prototype and test modern electronic systems that perform analog and digital processing function.
PSO 3: Ability to use software for design, simulation and analysis of electrical system.
Fundamental knowledge

— To equip the students with knowledge of fundamentals of electrical engineering with exposure to both analytical techniques and experiment values.

Design skills

— To equip the students with problem-solving skills and help them to develop abilities to solve engineering problems by participating in creative design projects.

Professional skills

— To equip the students with communication and leadership skills within an environment that nurtures ethical behavior.

Self-learning

— To encourage the students to pursue self-learning and personal development experiences in rigorous programs and through participation in undergraduate research opportunities.
The department conducts seminars on recent technical advancements and preparatory tests to enhance communication and soft skills of students in order to strengthen their chances to achieve their goals.

The cut-sections of various machines and transparent models of instruments have been procured to give the students a practical insight into their working.

A separate electrical workshop enables the students to learn practical applications.

The students have free access to text and reference books from well known publishers, journals, magazines, lab manuals, lecturers' notes, project reports, seminar/ training reports, alumni contacts, university question papers and syllabus from department learning resource center.

Industrial exposure: Organization of industrial visits, Workshops & trainings on modern research areas, expert lectures by faculty from industries and reputed institutes are routine activities in the department.
Internships In Industries
The department conducts periodical lectures by experts for the benefit of students and also imparts advanced teaching and training in specialized subjects for the faculty members.

Students are motivated to undergo vocational training in reputed industries to upgrade their practical knowledge. They take up project works in the college as well as in industries as part of their curriculum during the final year. Many projects are approved and financed by KSCST and are also selected for the state level seminar cum exhibition.
The Electrical & Electronics Department EEE at SJMIT was introduced in the year 1980-81, with an intake of 40 students. Since its inception, department has been always on its toes for the academic excellence.
The department of EEE has qualified, experienced and enthusiastic faculty members to accept the challenges in new developments. To update the knowledge, the faculties take keen interest in continued education.
The department has well equipped laboratories and very good infrastructure availability in terms of classrooms, library and advanced state-of-art laboratories. Apart from main library, the departmental library provides immediate reference books to students as and when required. The number of books available in the departmental library is around 600.
The department conducts Technical talks from ISTE Student Chapter and organizes various workshops/seminars for the students in a continual basis for their career development and also we organize personality development programmes for students.
The department works very actively to prepare the students by training on soft skills and many of our students have been placed in MNCs like Infosys, L&T, Wipro, Apara, HCL, Tech Mahindra, Accenture etc.
SL No

Faculty name

Designation

Experience

Qualification

Research Intrest

Contant Email ID

01
Dr. Kumaraswamy B.G
Prof and Head
23.03 yrs
Ph.D
Wind Energy
Wind Energy

9448133534

02
Vani .H.V
Asso.Prof
15.05 yrs
M.Tech
Power Electronics
Power Electronics

[email protected]

03
Jayadevamurthy M R
Asso.Prof
12.05 yrs
M.Tech
Power System
Power System

[email protected]

04

Chandrashekar Kambali

Asst.Prof
11.08 yrs
M.Tech
Digital Electronics
Digital Electronics

[email protected]

05

Manjunatha S.C

Asst.Prof
8.06 yrs
M.Tech
Power Electronics
Power Electronics

[email protected]

06
Sushmitha Deb
Asst.Prof
12.07 yrs
M.Tech
Power Electronics
Power Electronics and Digital Electronics

[email protected]

07

Maruthinaik R K

Asst.Prof
6.07 yrs
M.Tech
Digital Electronics
Wireless Communication system

[email protected]

08

Sanjay Kumar K

Asst.Prof
4.07 yrs
M.Tech
Power System
Power System

[email protected]

09

Sudha T

Asst.Prof
7.07 yrs
M.Tech
Digital Electronics
Digital Electronics

[email protected]

10

Madhu kumar Davangere

Asst.Prof
0.07 yrs
M.Tech
CAID
CAID

[email protected]
List of Technical and Non-Teaching Staff
| | | | | |
| --- | --- | --- | --- | --- |
| Sl.No. | Name | Designation | Qualification | Experience |
| 01 | C.Veeranagowda | Instructor | ITI | 20.03 Years |
| 02 | Boresh   T | Instructor | Diploma   in E&E | 12.00 Years |
| 03 | Mamatha M | Instructor | Diploma   in E&C | 11.00 Years |
| 04 | Gurumurthy   T.S | Instructor | Diploma   in E&E | 4.00 Years |
| 05 | Kotresh M | Instructor | Diploma   in E&E | 4.00 Years |
| 06 | Nagaraj   K R | Helper | 7th | 26.03 Years |
| 07 | Anjaneya P | Helper | P.U.C | 14.10 Years |
| 08 | Jagadeeshappa C | Helper | 7th | 18.09 Years |