Home > Mechanical Engineering
Mechanical Engineering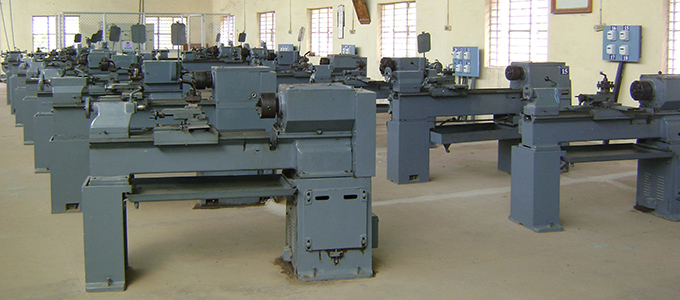 To establish an ideal education which imparts need based and value based technical education at all times and produces a team of world class leaders in all spheres of technical education
To provide excellent education to the deserving youth to transform them into world class leaders in their field.

To encourage and promote need based research and development in the field of technical education.

To motivate the entrepreneurial skills among youth and to impart the knowledge to lead a self dependent and value added life.
| | | | | |
| --- | --- | --- | --- | --- |
| Sl. No. | Degree | Course | Date of Commencement | Intake |
| 1. | Bachelor of Engineering | Mechanical Engineering | 1980 | 60 |
| 2. | Master of Technology | Thermal Power Engineering | 2014 | 18 |
PO 1: Engineering Knowledge: Apply the knowledge of Mathematics, Science, Mechanical Engineering, Engineering fundamentals, to the solution of complex engineering problems.
PO 2: Problem analysis: Identify, formulate, review research literature, and analyze complex Engineering problems reaching substantiated conclusions using first principles of mathematics, natural sciences, and Engineering sciences.
PO 3: Design/development of solutions: Design solutions for complex Engineering problems and design system components or processes that meet the specified needs with appropriate consideration for the public health, societal, and environmental considerations.
PO 4: Conduct investigations of complex problems: Use research based knowledge and research methods including design of experiments, analysis and interpretation of data, and synthesis of the information to provide valid conclusions.
PO 5: Modern tool usage: Create, select, and apply appropriate techniques, resources, including prediction and modeling to complex Engineering activities with an understanding of the limitations.
PO 6: The Engineer and society: Apply reasoning informed by the contextual knowledge to assess societal, health, safety, legal and cultural issues and the consequent responsibilities relevant to the professional Engineering practice.
PO 7: Environment and sustainability: Understand the impact of the professional Engineering solutions in societal and environmental contexts, and demonstrate the knowledge of, and the need for sustainable developments.
PO 8: Ethics: Apply ethical principles and commit to professional ethics and responsibilities and norms of the Engineering practice.
PO 9: Individual and team work: Function effectively as an individual, and as a member or leader in diverse teams, and in multidisciplinary settings.
PO 10: Communication: Communicate effectively on complex Engineering activities with the Engineering Community and with society at large, such as, being able to comprehend and write effective reports and design documentation, make effective presentations, and give and receive clear instructions.
PO 11: Project management and finance: Demonstrate knowledge and understanding of the Engineering and management principles and apply these to one's own work, as a member and leader in a team, to manage projects and in multi-disciplinary environments.
PO 12: Life-long Learning: Recognize the need for identifying contemporary technical challenges and redefining to develop solutions to satisfy given criteria in an optimal manner using creativity in design.
Program Specific Outcomes (PSO's)
PSO 1: Apply their knowledge in the domain of engineering mechanics, thermal and fluid sciences to solve engineering problems utilizing advanced technology.
PSO 2: Successfully apply the principles of design, analysis and implementation of mechanical systems/processes which have been learned as a part of the curriculum.
PSO 3: Develop and implement new ideas on product design and development with the help of modern CAD/CAM tools, while ensuring best manufacturing practices.
To provide opportunities and encouragement to students for enhancing their skills and attributes which are expected to be the traits of good mechanical engineers.

Supporting and developing distinctive competencies of faculty members and students to build a new generation of researchers.

Transferring and appropriating modern technology to fit with the local environment, for the purpose of national development.

Linking research policies with goals of the universities and needs of society by providing suitable advice and addressing problems through innovation and research.

Aiming to improve the department as center for an excellence.

Aiming to achieve 100% placement.

To impart best mechanical engineering knowledge through well qualified, experienced and dedicated faculty members and supporting staff.

To continuously monitor the academic progress of the students.

To continuously counsel the students for their future placements.
VTU recognized research center.

Provision for research at three centers in the department in VTU sponsored research centre and KSBDB sponsored biodiesel plant.

Encouraging micro projects in the second year itself.

Intern-ship in vacation for students of all semesters.

Supporting institutions' general maintenance work including fabrication, carpentry and damage precautions.
Internships in Industries
Students are encouraged to take up training during vacations of all semesters. The Eighth semester is devoted entirely to project work which is usually taken by the students at industries thereby enabling them to have industrial exposure. This not only gives the students an opportunity to work in a challenging environment with state of the art technology, but also supplements their work culture through which they can gain managerial and technical skills.
Department of Mechanical Engineering was started in the year 1980 since the inception of the college with an intake of 60 students and is currently headed by Prof. Sridhar. The Department is enriched with a wealth of senior most faculties with many of them having experience of more than three decades with M.E., M.Tech and Ph.D qualifications while many others are also pursuing Doctoral Research. Mechanical Department has well equipped laboratories and workshops with sufficient carpet area. Department serves as the general maintenance house of the entire SJM Vidyapeetha and works timely and punctually. The Department has well furnished digital class room with computer systems of latest configuration and application software.
The departmental library has a sound collection of books including reference books, text books, and journals donated by outgoing students of the department which assist the students of the department to enrich their knowledge. Besides academics, the Department regularly organizes technical seminars, quizzes and personality development programs to enrich the knowledge of students as well as faculty, focusing on the current technical scenario. The Department has secured 17 university ranks so far.
M.Tech in Thermal Power Engineering started of late in academic year 2013-14 with an intake of 18 students. The program emphasizes the application of fundamental principles of thermal engineering for various applications, which include gas turbine power plants, steam power plants, solar appliances, automobiles, IC Engines, refrigeration and air conditioning systems, propulsion systems, heat transfer with a view to build a vibrant learning environment through value based academic principles where in all involved shall contribute effectively and efficiently with all responsibility to prepare students to meet the global challenges.
The Department has a team of dynamic, experienced and highly qualified faculty members who can impart the adequate knowledge to mould the students to industry standards while encouraging them to learn the leading Technologies in the areas of Thermal Power Engineering.
The department organizes Personality Development Program (PDP) weekly to the students of all semesters. Conferences, technical talks, seminars, workshops and ISTE student's chapter activities are conducted as per the need and demand of the students and faculty members. The awareness programs and training activities regarding bio-diesel are carried out every year to facilitate research and entrepreneurship skills among students.
The department works actively to prepare the students by training them through group discussions, industrial visits, soft skills, project demonstration and seminar. Many of our students have been and are being placed in well reputed companies like INFOSYS, ACCENTURE, L&T, IBM, CARITOR, TECH MAHINDRA, JSW, WIPRO, APARA, IFB, INDIAN ARMY etc.,
Sl No

Faculty Name



Designation

Experience in Years



Qualification

Research Interest


E-Mail Id

1

Dr.N.Jagannatha

Professor

&

Head

25.05 Years
M.E. Ph.D
Non conventional machining, composite materials

998620328

2

Dr.H R Manohara

Professor
34.02 Years
M.E. Ph.D
Mechanical Metal Matrix and Composite

[email protected]

3
K K Gururaj
Professor
34.03 Years
M.Tech(Heat Power Engineering)
Heat Power Engines

[email protected]

4
Tharesh S
Associate Professor
29.04 Years
M.Tech (Production Management)
Production Management

[email protected]

5
Rudraswamy M K
Associate Professor
31.08 Years
M.Tech (PEST)
Advanced manufacturing Engineering

[email protected]

6
Madhu K C
Associate Professor
13.07 Years
M.Tech (Thermal Power Engineering)
Thermal Engineering

7
Satish J
Asst. Professor
13.07 Years
M.Tech(Machine Design),
(Ph.D.)
Machine Design / Composite Materials

[email protected]

8
Dr.Rajesh A M

Associate Professor

11.07 Years

M.Tech, MBA Ph.D

Thermal Engineering/

Composite Materials

[email protected]

9
Vishwanath D
Asst. Professor
8.05 Years
M.Tech(Machine Design)
Machine Design / Composite Materials
List of Technical & Non-Teaching Staff
| | | | | |
| --- | --- | --- | --- | --- |
| Sl.No. | Name of the Staff | Designation | Qualification | Experience in years |
| 01 | Sri. M.N.Basavaraj | Foreman | DME | 32.06 |
| 02 | Sri.V.M.Mallikarjuna | Foreman | DME | 21.03 |
| 03 | Sri.B.Prasannakumar | Programmer | DME | 13.04 |
| 04 | Smt.K.M.Shruthi | Instructor | DME | 3.07 |
| 05 | Sri.P.M.Veerabhadraiah | Asst.Instructor | ITI | 36.09 |
| 06 | Sri.G.N.Murugeshappa | Asst.Instructor | ATI | 32.09 |
| 07 | Sri.H.K.Nagaraj | Mechanic | IX STD | 22.00 |
| 08 | Sri.P.Vijayakumar | Mechanic | X STD | 30.00 |
| 09 | Sri.J.H.Manjunatha | Skilled Labour | VII STD | 32.09 |
| 10 | Sri.N.Prakash | Helper | I PUC | 30.03 |
| 11 | Sri.V.Srinivasa Reddy | Attender | X STD | 10.06 |
| 12 | Sri.C.S.Shivakumar | Attender | X STD | 16.00 |
The Department is equipped with following Lab and Workshop Facilities
Workshop

Machine shop

Welding shop

Foundry & Forging Lab

Fitting shop

Carpentry & Sheet metal Lab

Computer Aided Engineering Drawing Lab.

Material Science & Testing Lab

Fluid Mechanics Lab

Heat & Mass Transfer Lab

Measurement Metrology Lab

Design Lab

CIM & Automation Lab

ANSYS Lab

Energy Conversion Engineering Lab