Home > Automobile Engineering
Automobile Engineering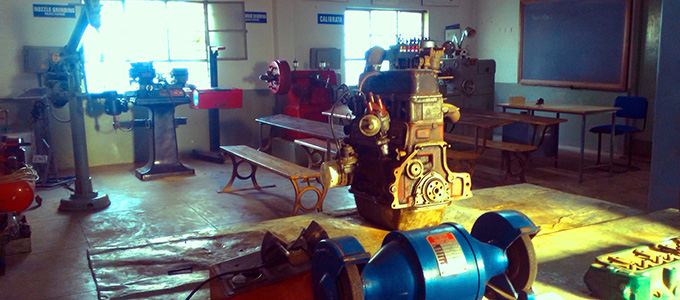 To emerge as the destination of choice for students to acquire knowledge of automotive technology and to mentor them as resourceful professionals for global requirements and to mould thzem as good citizens of our nation.
Our mission is a blue print of action plan to meet our vision, which is committed to imbibe knowledge of Automobile Engineering by providing practical and Computer Aided Engineering software skills along with academic learning facilities and also to impart knowledge to design vehicles with lesser pollution, better safety and meeting energy crisis by using alternate renewable energy resources.
| | | |
| --- | --- | --- |
| Name of the course | Intake | Year of Commencement |
| Automobile Engineering | 30 | 1985 – 1986 |
PO 1: Engineering Knowledge: Apply knowledge of science, mathematics, statistics and engineering fundamentals to solve problems encountered in a professional career in the automotive industry.
PO 2: Problem Analysis: Identify, formulate, and review on research literature to develop new methodology, based on engineering knowledge.
PO 3: Design/Development of solutions: Developing design solutions for real complex engineering problems which can meet the specified needs and considering safety health, economic and environmental issues.
PO 4: Conduct Investigations of Complex Problems:  Conduct testing in product development stages considering research methods including design of experiments, analysis and synthesis of results to provide valid conclusion through the application of computer technologies.
PO 5: Modern Tool Usage: Create, select and apply IT tools and modeling techniques which can predict feasible solutions to complex engineering problems.
PO 6: The engineer and Society: Practicing professional engineering based on the societal, health, safety, legal and cultural issues.  
PO 7: Environment and sustainability: Understand and practice engineering with ethical, environmental and global responsibilities.
PO 8: Ethics: Practice ethical principles and commit to professional ethics and responsibilities and professional engineering rules.
PO 9: Individual and Team Work: Providing platform for an individual to function effectively as a member of a team, manager or leader in diverse teams and multi-disciplinary culture.
PO 10: Communication:  Communicate effectively across all design and management interface levels of an organization and share the knowledge with society by providing documentation and effective presentation.
PO 11: Project Management and Finance: Practicing engineering principles to an individual and for an organization/Team to manage projects and complex multi-disciplinary projects.
PO 12: Life-long Learning: Recognize the need for identifying contemporary technical challenges and redefining to develop solutions to satisfy given criteria in an optimal manner using creativity in design.
Program Specific Outcomes (PSO's)
PSO 1: To prepare students for successful careers in industry that meets the needs of Industries/ society and the country in general.
PSO 2: To develop the ability among students to synthesize data and technical concepts for application to Autotronics stream.
PSO 3: To motivate students to accept new challenges for multi disciplinary projects.
PSO 4: To promote and develop among the students an ambition of life-long learning and to apply them to professional ethics and codes of professional practices.
To create leverage with world class R&D centers and educational institutions for excellence in teaching, research and consultancy practices.
To impart practical knowledge of vehicle transport management and maintenance.
To develop the ability among students to synthesize data and technical concepts as practical projects.
To provide opportunity for students to work as part of teams on multidisciplinary projects.
To provide awareness about road safety, environmental issues and energy crisis of automotive industry.
To educate about driving, road safety and to provide driving license for students, staff members and for public in co-ordination with Karnataka Regional Transport office.
To mentor students to excel in their professions to become creative entrepreneurs and global leaders.
Qualified and dedicated faculty members.
Well equipped Laboratories/ Workshops.
Consultancy testing through Computerized Wheel Balancing and Alignment Machine.
SJM Driving School.
Industrial visits for practical exposure
Department Library.
Our students are provided with an opportunity to carryout final year project work under the guidance of industrial professionals along with departmental staff support.
Further, we have been supporting our students to undergo vocational training provided by major automotive concerns which will help them to know about real world field problems and work culture in automotive field.
The Automobile Engineering department was established in the year 1985-86 with an intake of 30 students, keeping the vision to impart automotive technical knowledge to the students pursuing a career in this field. We are glad to inform that among central Karnataka region, ours is the only college having this course. Since from the inception, our students are securing ranks within TOP 10 from Mysore, Kuvempu and Visvesvaraya Technological Universities.
The department is endowed with highly qualified, well experienced and dedicated faculty members interested in mentoring students by providing academic knowledge along with vehicle maintenance/service and basic design software as a value addition.
The department is conducting Seminars and Workshops to share recent developments in automotive field. Personality Development programs will be organized by Self Help Center (SHC) which is a departmental student forum. Students' counseling is comprehensively carried out by faculty members to help them in achieving better academic performance and develop a wider vision for career developments. Besides this, our students and staff members are consistently upgrading themselves by presenting research papers, attending workshops/seminars and technical trainings.
Departmental placement cell works in co-ordination with the institution placement cell by providing necessary database required for students/industries and organizes Personality Development programmes regularly. Many of our students are working in globally reputed companies like FORD MOTORS, TATA MOTORS, GENERAL MOTORS, TVS, HYUNDAI, ISRO & KSRTC etc.
Sl No.
Name/ Photo
Designation
Experience In Years
Qualification
Research Interest
Contact Number / Email

01

 Dr. Bharath P B
Associate Professor & Head
16.09
B.E, M.Tech (Engineering Analysis & Design), Ph.D
Tribology Of Polymer Composites
+91 9481557659


[email protected]

02
T Nagaraj
Associate Professor
24.05
B.E, M.E (Production Management), (Ph.D*)
Production & Testing Of Mmc & Polymer Composites

[email protected]

03
 S P Shivakumar
Associate Professor
14.03
B.E, M.Tech (Machine Design), (Ph.D*)
Creep Analysis Of Metal Matrix Composites

[email protected]

04
 Prabhuswamy G S
Assistant Professor
12.07
B.E, M.Tech (Engineering Analysis & Design)

[email protected]

05
 B Nagaraj
Assistant Professor
11.10
B.E, M.Tech (Machine Design)

[email protected]
List Of Technical & Non –Teaching Staff

| | | | | |
| --- | --- | --- | --- | --- |
| Sl.No. | Name | Designation | Qualification | Experience |
| 01 | Jagadeesha.K.E | Instructor | Dip.In Mechanical Engg. | 9.10 Years |
| 02 | Channanjappaswamy N | Driver | Sslc | 29.03 Years |
| 03 | Venkatesh K M | Helper | ———- | 26.03 Years |