About SJMIT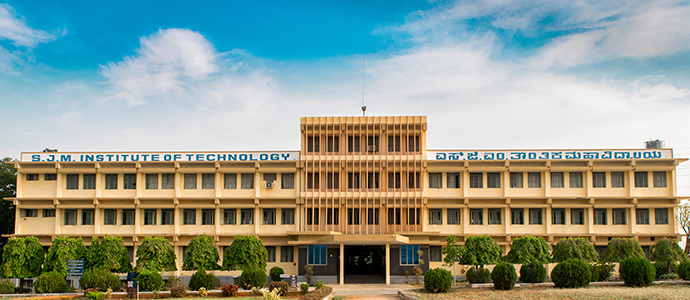 S.J.M Institute of Technology (SJMIT) was established in the academic year 1980-81 with the blessings of Sri Sri Sri Mallikarjuna Murugharajendra Mahaswamiji, the then President of SJM Vidyapeetha. Located just adjacent to the Pune-Bangalore National Highway-4, the institute is well connected with road and railway network and just 200 kms drive from Bangalore. The eco-friendly campus filled with flora-n-fauna sprawled with lush green garden spread over vast 22 acres of land makes an ideal platform for higher education center with homely atmosphere.
The institute is blended with experienced, highly qualified and dedicated faculties in all the disciplines of engineering. The institute is strengthened with well-equipped laboratories and basic amenities supporting academic and students need.
In addition to these various facilities on board, the campus includes independent hostels for boys and girls, indoor and outdoor sports, sophisticated gymnasium, student activities center, cricket stadium, reading room, cafeteria, juice parlor, provisional stores, dispensary and several other amenities catering the needs of the students.
Digital library with huge stack of collection of books including National and International journals cater the academic, research and development needs of the students and faculty. Central computer center enriches the students to browse several reading and research materials round the clock. The clean, green, healthy, secured, disciplined and homely campus provides platform for student's career development along with homely and friendly atmosphere to acquire his/her higher education.
We are accredited by the NAAC with "B++ Grade"
Our Pride

Science and Technological Entrepreneurship Park (STEP) and IT incubation center to cater the needs of entrepreneurs' activities.

Technology Transfer Center (Nirmithi Kendra) that promotes cost effective technology in the field of civil engineering.

Recognized by many Government and quasi govt. agencies in the area of quality assurance by way of consultancies.

Nodal center for Mahithi Sindhu Program.

Driving school, computerized emission test center, wheel alignment and balancing facility.

Bio-diesel unit in collaboration with Karnataka State Bio-fuel Development Board (KSBDB), Government of Karnataka, Bangalore.

VTU Research & Development center, sponsored by VTU Research grant and "K-FIST" scheme run by Vision Group of Science and Technology (VGST), Department of Science and Technology, Government of Karnataka.

Science and Technology Entrepreneurs Park, sponsored by department of Industries and Commerce, Government of Karnataka(STEP).

EDUSAT Programme under the control of Indian Space Research Organization (ISRO), Bangalore.

Various Technical consultancy centers to cater maintenance and repairs for the entire SJM Vidyapeetha Educational Groups.