NSS Wing
National Service Scheme
"Many are attracted to social service – the rewards are immediate, the gratification quick. But if we have social justice, we won't need social service."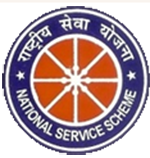 National Service Scheme (NSS) is an initiative of the Ministry of Youth Affairs and Sports which encourages school and college students to interact and know the community around them and understand their problems and give an effort towards the solution.
NSS unit was established in SJMIT during the year 2000-2001. Several programmes have been conducted during these 14 years such as,
Planting of saplings programme conducted in our college campus.
Organizing blood donation camps.
Identifying and labeling of Medicinal plants in our college campus.
Creating awareness on plastic pollution, Ill effects of smoking and consuming alcohol among villagers.
Swami Vivekananda 150th birth centenary celeberation.
Animal welfare and awareness programmes.
Election awareness programmes in coordination with District Sweep committee, Chitradurga.