Principal Message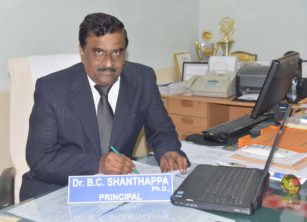 Dear All,
Technical education is the backbone of every nation and is the stepping stone for a country to move into the niche of a developed nation. SJM Vidyapeeta education and charitable trust has been contributing in the mission of transforming rural India into developed nation by running Sri Jagadguru Murugharajendra Institute of Technology at Chitradurga (SJMIT) with innovation, creativity, human intelligence and patience "Service to human being is service to God".
It gives me great pleasure to welcome you to the creative campus of SJMIT, which has very eco friendly campus and is equipped with state of art infrastructure. We have well equipped labs, workshops and library to help students in attaining highest standards in academics, research and professional skills. The campus has adequate sports infrastructure to take care of sports and cultural activities.
"Creating better human beings" is our motto and we can do that when we are able to mould our students to be good human beings with values which are embedded for life. We aim to provide an overall development that nurtures them towards becoming strong and focused human beings. Soft skills and educational skills is what the institution seeks to provide every student at the campus itself through its SJMIT PATTERN.
The main focus of the institution is to empower students with sound knowledge, wisdom, experience and training both at the academic level of Engineering and in the highly competitive global industrial market.
We wish the best for all our students, and the members of the institution who reiterate their aims at providing the best in academic and extracurricular fields. We must believe that success is inevitable where these exists foresightedness, firm determination, hard work dedication and discipline. You are assumed that you will be proud of yourself as a confident and successful technocrat after four years at SJMIT.
Once again, I wish all our students and faculty a successful and rewarding career.
Dr. B C Shanthappa
Principal – SJMIT, Chitradurga